APN and DNP Student Scholarship
APN/DNP Student Scholarship is not being offered at this time.
Award: Up to $5,000 to assist with costs to complete the Masters or DNP capstone or thesis project.
Scholarship is not intended to support tuition expenses. It is expected that projects would require a minimum of 60 hours of work for completion. Funding cannot be used for work completed prior to approval of Scholarship.
Purpose: 
To provide financial support for students enrolled in an MSN or DNP program to accomplish work in areas of cancer prevention, care or control as outlined in the ONS Research Agenda.
To provide a directed study approach to enable students to do capstone projects or thesis projects in oncology, assisting them to accomplish educational program requirements.
To advance evidence based practice in oncology care
Applicant: Registered nurses enrolled in an MSN or DNP program at an accredited school of nursing.
Selection Criteria:
Applicant projects must be in the content areas in the current ONS Research Agenda
Interventions to adopt /maintain health behaviors
Interventions to increase cancer screening, with emphasis on underserved/understudied populations
Cancer-related symptoms and side effects
Late effects of cancer treatment
End of life care
Psychosocial and family care
Nursing sensitive patient outcomes
Translation science
Meet one or more of the AACN DNP essentials (including but not limited to: program evaluation, quality improvement project, research utilization, feasibility study, organizational analysis, systematic or integrated literature review, or development of a clinical practice guideline)
or
ACN Masters essentials (including but not limited to, designing, analyzing or evaluating nursing care, synthesizing evidence for practice, implementation of change strategies to improve quality and safety, analysis and integration of technology in practice, guideline development, guideline development or implementation)
Mentors: Applicant must have a mentor whose work clearly aligns with the planned project and/or that of the ONS Research Agenda. Students should consider the availability of the mentor, learning needs, interests and expertise of both parties, and educational program requirements. Student acceptance by a mentor would be a requirement for receiving the Scholarship. Mentors must be individuals with expertise and qualifications to guide the student activities
All awards, grants, and scholarships are tentative and subject to change based on funding availability.
To Apply Online: First-time users must follow steps. Returning users may access the application directly.
2017 APN and DNP Student Scholarship Recipient
---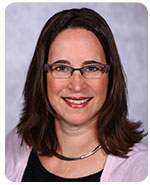 Anne M. Kolenic, MSN, RN, AOCNS®
End of Life Care, Psychosocial and Family Care