Extraordinary Stories - Duke University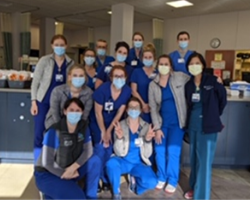 "Our team learned new roles and skill sets, remaining flexible and without compromising the delivery of high-quality oncology care."
 - Jennifer Frith MSN, RN, OCN, NE-BC, Clinical Operations Director, Inpatient, Oncology and ABMT, Duke University Medical Center
Identifying the potential impact of COVID-19 on our highly immunocompromised patient population, and with the support of hospital leadership, the decision was made to provide care to our Blood and Marrow Transplant patients in their home and local housing. The goal was to decrease any unnecessary potential exposures for this high-risk population. The nurses and advanced practice providers all learned how to provide this new care model safely and effectively. Our team learned new roles and skill sets, remaining flexible and without compromising the delivery of high-quality oncology care. Because of the team's dedication and effort, we have kept our patient population COVID free through this pandemic.
Oncology nurses bring meaningful experience to caring for vulnerable patients in the wake of the COVID-19 crisis.  Not only are they working tirelessly to mitigate the effects of the pandemic in our communities, they continue to provide quality cancer care to those with and recovering from cancer.  They do this with compassion, easing the fear and anxieties that patients experience as they navigate serious illness. Forever, they inspire and bring us hope.
Our nurses need our support more than ever now, and the Oncology Nursing Society and Oncology Nursing Foundation continue to develop the resources, tools, and other support needed to sustain the oncology nursing community through these difficult times and beyond.
Please consider a gift to the Oncology Nursing Foundation. Through your generosity, we can continue to fund specialized oncology nursing education and research related to caring for those with complex health conditions, as well as provide wellness and emotional support to nurses in these times of elevated stress.